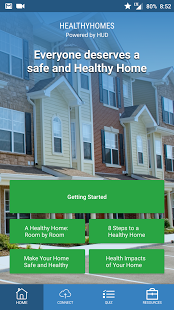 The U.S. Department of Housing and Urban Development has rolled out a new app that reveals hidden hazards lurking in homes. The Healthy Homes app sets out to educate the public on how they can protect themselves from health and safety problems in the home.
"There are many potential hazards that can be found in our homes, such as mold and lead-based paint," says Michelle Miller, acting director of the Office of Lead Hazard Control and Healthy Homes. "Our new app helps identify these potential problems and offers simple steps that consumers can take to fix them."
Most residents spend 70 percent or more of their time inside their home. But toxins like lead, asbestos, and household chemicals may lurk and cause potential health problems. What's more, invisible poisonous gases, such as carbon monoxide and radon, can also pose dangers.
The app provides content geared to what actions households can take to make their home healthier and quizzes to test knowledge on lead, indoor air quality, mold, and other household health hazards.
Source: U.S. Department of Housing and Urban Development