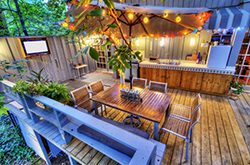 Amber Freda, a landscape designer in New York, recently shared with The New York Times a checklist for decorating an outdoor living space. Some of her tips include:
Choose the right furniture. Don't leave a blank slate. "Furniture is probably the most important thing, so you can start using the outdoor space even before you get the plantings figured out," Freda told The New York Times. Create a space for lounging, for example, with just simple chairs and small drink tables.
Get some planters. Use planters arranged around the perimeter. "Machine-made terra cottas are prone to cracking in the winter," Freda says. "Handmade terra cotta is better, and the thicker it is, the longer lasting it will be. Fiberglass will last forever, and you can get it in any color imaginable."
Add lighting. "If there's not enough ambient lighting already, look at doing uplighting — low-voltage landscape lighting in the planters," Freda says. An entire system can plug into an existing outlet so no electrician is needed.
Define with a rug. An outdoor rug can be "a nice way to break up a space, and make it feel like an outdoor living or dining room," Freda says.
Add some shade. An umbrella can make an outdoor space more inviting by offering some shade from the bright sun overhead. "Some [outdoor umbrellas] are rated for wind resistance, with vents in the canopies," Freda says. "And the bases can be a few hundred pounds" to avoid them blowing away. Shade sails and pergolas can also add some "elegance" to an outdoor space.
Source: "Outdoor Décor: A Checklist," The New York Times (July 1, 2016)